Bungalows
| Model | SqFt | Beds | Baths | Garage | Price | Finished lower level (optional) |
| --- | --- | --- | --- | --- | --- | --- |
| CHARLESTON | 1,200 | 2 | 2 | 1 | $769,900 | $50,150 |
| RIDEAU | 1,200 | 2 | 2 | 1 | $769,900 | $61,550 |
| SYDENHAM | 1,457 | 2 | 2 | 2 | $819,900 | $78,850 |
| BENSON | 1,572 | 2 | 2 | 2 | $849,900 | $100,350 |
| OPINICON | 1,652 | 3 | 2 | 2 | $869,900 | $106,300 |
| NEWBORO | 1858 | 3 | 2 | 2 | $899,900 | $97,000 |
Bungalows + Lofts
| Model | SqFt | Beds | Baths | Garage | Price | Finished lower level (optional) |
| --- | --- | --- | --- | --- | --- | --- |
| CHARLESTON | 1,715 | 4 | 3 | 1 | $869,900 | $50,150 |
| RIDEAU | 1,980 | 4 | 3 | 1 | $919,900 | $61,550 |
| SYDENHAM | 2,202 | 4 | 3 | 2 | $969,900 | $88,600 |
| OPINICON | 2,557 | 4 | 3 | 2 | $999,900 | $118,250 |
2 Storeys
| Model | SqFt | Beds | Baths | Garage | Price | Finished lower level (optional) |
| --- | --- | --- | --- | --- | --- | --- |
| CEDAR HARMONY | 1,821 | 3 | 2.5 | 2 | $864,900 | $74,250 |
| OAK HAVEN | 2,067 | 4 | 2.5 | 2 | $899,900 | $63,000 |
| MAPLE HOPE | 2,302 | 4 | 2.5 | 2 | $929,900 | $67,300 |
| SERENITY PINE | 2,505 | 4 | 2.5 | 2 | $954,900 | $71,050 |
Bungalow Semi
| Model | SqFt | Beds | Baths | Garage | Price | Finished lower level (optional) |
| --- | --- | --- | --- | --- | --- | --- |
| KINGSTON | 978 | 2 | 2 | 1 | $599,900 | $58,350 |
| CATARAQUI | 1,229 | 2 | 2 | 1 | $674,900 | $60,150 |
| FRONTENAC | 1,427 | 2 | 2 | 2 | $744,900 | $69,500 |
Bungalow Town
| Model | SqFt | Beds | Baths | Garage | Price | Finished lower level (optional) |
| --- | --- | --- | --- | --- | --- | --- |
| CATARAQUI | 1,229 | 2 | 2 | 1 | $649,900 | $60,150 |
| FRONTENAC | 1,427 | 2 | 2 | 2 | $739,900 | $69,500 |
Click here for Solar Package options.
Pricing is based on standard plans and excludes any options, upgraded layouts and upgraded features.
Pricing is for 50'X100' standard lot for single family homes and excludes lot premiums, associated corner lot treatments and walk–out or terrace lot conditions as they may apply.
Actual usable floor space may vary from stated area. Square footage has been calculated based on usable living space according to TARION and does not include garages or basement areas.
All HST is included in the purchase price. Purchaser agrees to assign all HST rebates back to the builder, as detailed in Agreement of Purchase and Sale.
Prices, specifications, standard features and extras are subject to change without notice. E. & O.E. Sept 1, 2022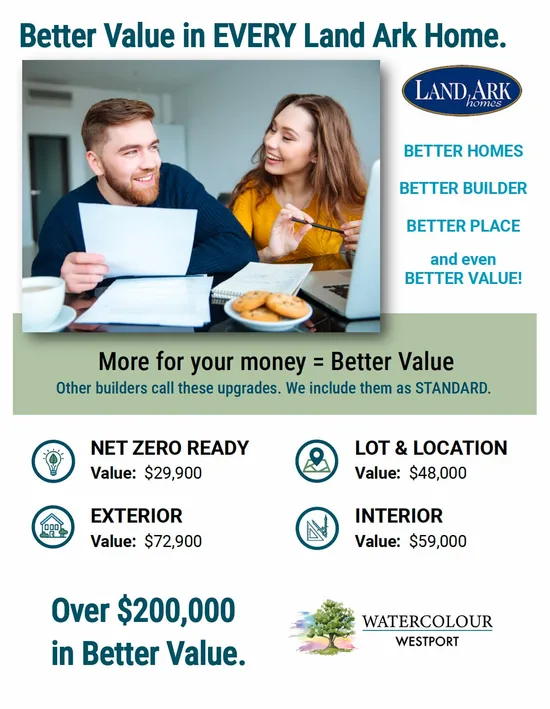 Our Standard, Others' Upgrades
Over $200,000 in added value in our Standard Finished Homes. Enter your email below to download the full breakdown: